FEATURED VIDEO: The Late Great Isaac Hayes from his Hot Buttered Soul breakout album in 1969.
---
But will the dinosaurs on council (such as Polhill, Caranci, Miller and Van Meerbergen) see the light? Not likely. According to the CBC, more than 300 cities in North America permit backyard laying hens, including New York and Vancouver
---
---
Swing batter batter ...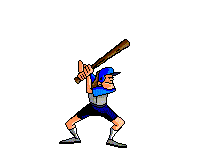 THREE-GAME EXHIBITION SERIES: Historic Labatt Park opens tonight (Apr. 23) for the first baseball game of the 2010 season as the London Majors Baseball Club take on the 2009 American champs, Michigan Jetbox at 7:30 pm.

Admission is only $2 with the proceeds going to KidSport, a registered Canadian charity.

The same two teams play a doubleheader on Saturday afternoon (Apr. 24) starting at 1 pm. These two games will be televised live on Rogers TV-13.

London Majors dominate Jetbox in weekend series



GAME RESULTS: Three-game exhibition series at historic Labatt Park this weekend:

FRIDAY: London Majors 14, Michigan Jetbox 4 (9 innings)

SATURDAY DOUBLEHEADER: ~ London Majors 1, Jetbox 1;
London Majors 7, Jetbox 2 (Both games 7 innings).

London Majors' American import OF slugger Cleveland Brownlee (6' 6", 235 lbs) injured his back during the Friday night game while running from 1st to 2nd base. Brownlee was dressed and in the dugout Sunday but didn't take the field. Developing.
---
---

SLASH-AND-BURN PELADEAU: Pierre Karl Peladeau, CEO of Quebecor Inc., a bona fide Canadian newspaper butcher.
---
---
---
---
LONDON, ONTARIO, POLICE BEAT
---
Fire at an abandoned building at 529 Philip Street in London


ON THURSDAY, APRIL 22, 2010, at 10:16 pm the London Police Service was called to 529 Philip Street (formerly Flagswipe Paintball) for a fire to an abandoned building.

The fire was extinguished by the London Fire Department and damage is estimated at $5,000.

The cause of the fire is undetermined at this time.

Police are no longer at the scene. The cause of the fire is undetermined and the investigation is ongoing..