Unlike London, the City of Ottawa is going with Open-Source Software for its website to leave the costs of proprietary software behind, OC, Sept. 21
~ $$$$$$$$$$$$$$$ ~
---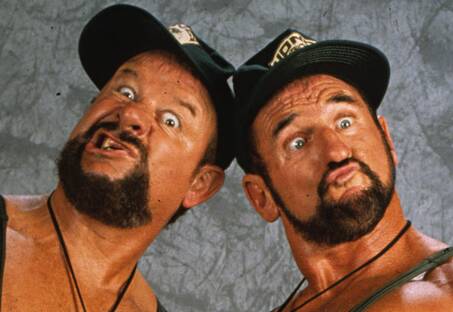 The same crew of ill-informed dullards on council blow it again
---
---
BREAKING NEWS, SEPT. 20: AltLondon has learned that London city council has opted to retain an Exorcist (pictured below) instead of an Integrity Commissioner. Developing ...
"Something tells me they're channelling Beelzebub in council chambers at 300 Dufferin." ~ Exorcist Stanley P. Montgomery
---
---
---

If any council majority in the history of the City of London needed an Integrity Commissioner, it's the current one.

Informative backgrounder on Municipal Integrity Commissioners (how many in the media or on council have read this?)
---
---
CLOSE SHAVE: Disposable razor sprouts legs and attacks full-time councillor; bloody cut forces him to skip key governance meeting, LFP, Sept. 17
---
According to yesterday's LFP poll (Sept. 17) with 1,433 respondents, 62% "hate" the new name "Budweiser Gardens" for the JLC.


See the related LFP news story and poll HERE.
---
National Security Agency: the United States cryptologic organization that coordinates and directs highly specialized activities to protect United States information systems and to produce foreign intelligence information. The NSA headquarters is in Maryland outside Washington, D.C. ~ the "crystal palace."
---
Another committee restructuring likely in the cards at city hall; check out the goofy, irrelevant comments posed by Steve Orser (since edited the morning after the night before), LFP, Sept. 17
---
---
---
---
---
---
THIS JUST IN: Mayor Joe's buddy-former charity pal Vince Ciccone to repay $15.5-million to investors (where will he find the money?), G&M, Sept. 10
'Vincent Ciccone, founder of Cambridge-based Ciccone Group Inc., was accused of raising more than $19-million from investors between 2008 and 2010 without being registered to do so and by promising returns of over 20 per cent annually.'
---
It's all about power and control


THOUGHT DU JOUR, SEPT. 8: "The most radical revolutionary will become a conservative the day after the revolution." ~ Hannah Arendt (1906-1975).
---
---
Former London Rippers' president David H. Martin's website (National Pastime Sports) has disappeared from the Internet, NPS, Sept. 7
---
---
---
---
CTV NEWS VIDEO: Japanese TV takes a big interest in historic Labatt Park while they're in London checking out the city prior to the 2013 World Skating Championships at the JLC, CTV-L, Sept. 5
---
---
THOUGHT DU JOUR, SEPT. 5: JoFo says he didn't want to "lecture" Western's frosh. Why not try to inspire them instead of pandering to them? Isn't that what a good mayor is supposed to do?
---
THIS JUST IN, SEPT. 5: Mayor Fontana indicates he'll be seeking re-election in 2014 with his public comment on 1290-CJBK-AM this morning that he doesn't think a 0% tax increase will be part of his next campaign platform.
---
Orser's full-time councillors crusade, ballot questions not well-received by committee, LFP, Sept. 5
'Orser didn't deny that, saying later he'd made it clear to voters before the 2010 election that he'd vote for a council raise if the jobs were declared full-time'
---
---
ANOTHER FAUX-PAS: Mayor Fontana tells Western frosh to party-hearty, school work is 'bullshit'



MAYOR JOE FONTANA: London's Liberal version of Toronto Mayor Rob Ford


SEPT. 4: According to am980, Mayor Fontana reportedly told six-thousand frosh at Western (on Mon. Sept. 3): "I know the president of your school wants you to study hard, but that's all bullshit. You should just have fun."

Salty language aside, it's clearly the wrong message for anyone to convey to students, let alone a mayor. Would he also say this to Fanshawe students after last March's student riot on March 17th?

What our mayor should be saying to Western frosh ~ and any post-secondary school students for that matter ~ is "Study, work hard and have fun by getting involved with your community both on-campus and off. Make a difference."



---
---
---
Former Controller Gina Barber gives background on the proposed hiring of an Integrity Commissioner, LCW, Sept. 4
---
Early morning fire on Cherry Street in London
BREAKING NEWS, SEPT. 3: There was a fire early this morning, just after midnight, at 4 Cherry Street, two side-streets north of Labatt Park, off of Wilson Avenue.

Fire department officials estimate damages at $50-K, including to a detached garage. The cause is undetermined.
---
---
---
---
---
---
"Fontana stressed at the time of the interview he had 'absolutely nothing to do' with Ciccone's private investment firm. But Ciccone himself and at least one of his investors say otherwise. As a featured and often keynote speaker, Fontana appeared at a number of dinners and seminars at which the voluble politician touted Ciccone and his Cambridge-based investment group, it's been learned.

"Ciccone considered him a paid adviser and consultant.

" 'We used Joe Sr.'s influence to provide credibility to our products,' Ciccone told the official receiver in the bankruptcy of Ciccone Group in early 2011." ~ Chip Martin, The London Free Press
---
---
NO, in answer to the proposed ballot question regarding continued water fluoridation (quit poisoning our public drinking water); NO, in answer to the proposed question regarding having full-time councillors (council sets policy, we have plenty of full-time staff to implement policy); ALTER the proposed question regarding ongoing 0% tax increases to include the caveat, 'with no cuts to services' (for clarity)



Who's the boss in the above scenario? The charging bull or the matador?


On 1290-CJBK-AM this morning with Steve Garrison, Ward 4 Councillor Steve Orser described how he'll be taking his proposed three ballot question to committee on Sept. 4 ~ "I'll put my head down and charge" ~ as if he's some sort of raging bull about to be skewered by a matador and slam his head into a brick wall.

Such a metaphor captures perfectly why Coun. Orser rarely receives much support from his council colleagues for his grandstanding ideas.

For any politician to be effective and influential, including Steve Orser, they must first realize true power flows from a talent for self-control ~ something charging bulls and battering rams clearly lack.
---
THOUGHT DU JOUR, AUG. 22: According to Sarnia mayor Mike Bradley this morning on 1290-CJBK-AM, there's only one flag that flies at Sarnia city hall ~ the Canadian flag.

Simple, eh?
---
---
Ward 9 Coun. Dale Henderson says he can't remember if he's ever been a member of the federal Christian Heritage Party, LFP, Aug. 20
---
BREAKING NEWS, AUG. 20: Legendary comedian Phyllis Diller has died in Los Angeles at age 95.
---
FROM TWITTER, AUG. 19: Ontario Ombudsman @Ont_Ombudsman @OliverHobson2 You can't have din-din w/whoever you want behind closed doors if u happen to b engaged in city business. Full stop.
---
LONDON CITY HALL
---
Ward 9 rookie Councillor Dale Henderson shares some of his many ideas for improving London



An example of 'dancing waters'


This morning on 1290-CJBK-AM (Aug. 20) guest host Phil McLeod (filling in for Andy Oudman for 5 days) talked to Ward 9 Councillor Dale Henderson about local government.
Here's some of Councillor Henderson's ideas:
Coun. Henderson (pictured left): "The best government is no government."
Coun. Henderson wants Las Vegas-style "dancing waters" at the Springbank Dam and an end to the protracted litigation surrounding the upgrade project.
Coun. Henderson supports regular private meetings with a handful of council members away from official committee and council meetings to "jaw" and move the agenda for London forward.
Coun. Henderson (paraphrased): Prior to being elected, I never watched council meetings. Then when I was elected, I thought, whoa, what's with this 50 pounds of coloured paper (agendas)?
Coun. Henderson supports using dedicated City of London staff (and police officers) for each ward in London. He says he'd have the garbage men also cut the grass in each ward.
Coun. Henderson says he'd sell the John Labatt Centre tomorrow if someone came up with the money.
Coun. Henderson supports regularly showcasing Museum London's collection of Paul Peel and Group of Seven paintings as tourist attractions.
Coun. Henderson would completely revamp or get rid off Tourism London altogether.
---
Dale Henderson's memory not razor-sharp


On a somewhat related note, according to a London Free Press article (Aug. 20), Coun. Henderson says he can't remember if he's ever been a member of the federal Christian Heritage Party.

See the LFP article HERE.