THOUGHT DU JOUR (NOV. 7): I just knew that dog-on-the-roof caper was going to come back to bite Mitt's meat ...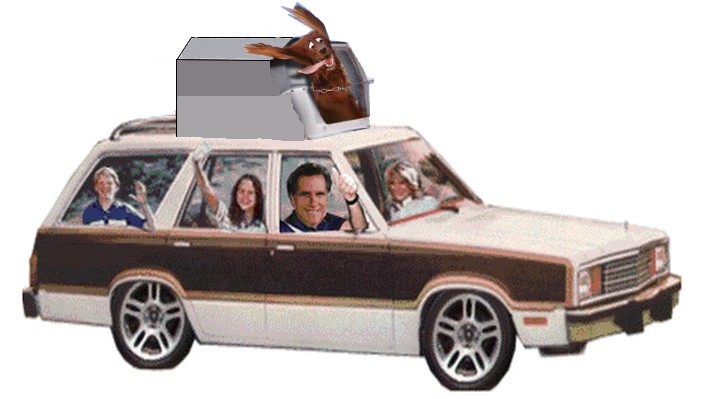 JEB BUSH: "If only we could have returned to the Days of the Well-Hung Chad."
---
---
---
---
---
---
As of Nov. 4 at 3:25 pm, 85% of 1,348 LFP poll respondents think London's current city council is the worst ever
As of Nov. 4 at 4:25 pm, 79% of 7,389 LFP poll respondents think Mayor Fontana should step down during the RCMP criminal probe
---
---
To ADVERTISE or share HOT NEWS TIPS, e-mail butchmclartyATyahoo.ca
---
---
---
---
---
A Halloween Question

THOUGHT DU JOUR (OCT. 31): Orser says Mayor Fontana is "ram-fed & loaded." Branscombe says Fontana is "stuffed & mounted." Who's right?

Gazing into my Halloween crystal ball, I see a London Free Press headline in 2013 that reads The Rise and Fall of Joe Fontana by Chip Martin.
---
THE SAME-OLD SAME-OLD FONTANA 8: Bud Polhill, Joe Swan, Dale Henderson, Denise Brown, Stephen Orser, Paul Van Meerbergen, Harold Usher and Fontana himself voted against considering the motion by councillors Nancy Branscombe and Paul Hubert calling on Fontana to step down
Pretty much the same crew opposed to the hiring of an Integrity Commissioner at city hall.
---
---
---
What we have a city hall in London currently is akin to a serious disease, a cancer that needs immediate attention
---
BREAKING NEWS (OCT. 30): Ward 6 Coun. Nancy Branscombe just revealed on 1290-CJBK-AM she won't be seeking re-election on London city council as a Ward 6 councillor nor will she take a shot at the mayor's chair.
---
At 7:30 am on Oct. 30, 79% of 1,384 poll respondents say Fontana should step down during RCMP probe
---
BE PREPARED FOR POWER OUTAGES: Periphery of Hurricane Sandy to lash London Monday night with strong winds and heavy rain, LFP, Oct. 28
---
---
---
THIS JUST IN (OCT. 28): The San Francisco Giants have won the 2012 World Series, sweeping the Detroit Tigers four games to zip, after defeating the Tigers 4-3 tonight in extra innings in Detroit.
---
---
BREAKING NEWS: 7.7-magnitude earthquake along BC's west coast Saturday night (most powerful since 1949) prompts tsunami warnings, CBC, Oct. 28
---
CTV NEWS VIDEO: Steve Orser, council's grandstanding buffoon, attempts to muzzle his council colleagues, CTVL, Oct. 26
'Some of the peacocks [on council] may spread their feathers out, but they'll get their feathers clipped real quick.' ~ Ward 4's Swag-Boy Steve Orser
---
THOUGHT DU JOUR (OCT. 27): The truth of the matter is the 2010 to 2014 term of London city council is a complete write-off, making the 2014 municipal election pivotal to London's future.
---
Councillor Sandy White suggests Mayor Fontana should step down during RCMP investigation ~ sort of, LFP, Oct. 26
---
---
TIME TO PUT HONOUR BACK IN HONOURABLE: Mayor Fontana needs to step down during the RCMP investigation, TMR, Oct. 26
'... skunk-like whiff of national disgrace that is beginning to waft across the entire city.' ~ Journalist Phil McLeod
---
Canada Revenue Agency yanks charitable status of another charity sham indirectly tied to foundation headed by Mayor Joe Fontana, LFP, Oct. 25
---
BREAKING NEWS: Free Press reporter Chip Martin drops several bombshells regarding Wedding-Gate scandal, LFP, Oct. 22
"DeCicco-Best's campaign was aware of the federal cheques during the 2006 and 2010 campaigns in which Fontana challenged the mayor but opted not to raise the issue back then because it would look like dirty tactics." ~ LFP reporter Chip Martin
---
THOUGHT DU JOUR: Whistle-blowers are always fearful of reprisals ~ for good reason. Cockroaches usually remember who turned the lights on.
---
Joe Fontana thinks he's Mr. Popularity
During last night's virtual town hall meeting held by Mayor Fontana, he told a CTV London reporter "They're [Londoners] supportive of me. They like what I'm doing as the mayor." Say what?
---
THIS JUST IN (OCT. 23): Former Marconi Club manager Joe Dipietro said (on Newstalk 1290-CJBK-AM with Andy Oudman this morning) he never leaked incriminating documents to the LFP, just confirmed their accuracy with reporter Chip Martin when contacted.
---
---
---
PREDICTION, OCT. 22: Mayor Joe Fontana will be stepping down from his mayoral duties within 7 days ~ with pay ~ while the RCMP investigation is underway.

The question then would be who will London city council appoint as acting mayor?
---
---
BREAKING NEWS: Mayor Fontana has hired London lawyer Gord Cudmore and will not be making any more public statements while the RCMP investigation is ongoing, JF, Oct. 22
---
BREAKING NEWS: Mayor Joe Fontana says 'personal payment' made for 2005 wedding but provides no documentation to support claim, LFP, Oct. 21
---
---
Fontana's woes a distraction and need to be resolved quickly, LFP, Oct. 22
---
---
WeddingGate-on-the-Thames® ~ the Icing on the Cake
BREAKING NEWS: Joe Fontana under investigation by RCMP regarding son's wedding reception in 2005 paid for with government cheques, LFP, Oct. 18
$20,600 wedding tab reportedly paid for with Public Works Canada cheques

'Fontana, who recently argued against appointing an integrity commissioner at city hall, has declined to answer questions from The Free Press'
* Now that the RCMP is involved, will the mayor's boy Steve Orser trot out his line again about the LFP trying to turn a "cheese sandwich into a flying turkey" like he did last August?
---
---
---
---
Ward 4's Steve Orser wants the Internet 'scrambled' in council chambers and a twitter ban, LFP, Oct. 15
No one in their right mind would want to scramble anything more than it already is in council chambers. Remember when Orser wanted food kept from the public gallery of council chambers because he was worried about tomatoes being tossed ~ and said chicken diapers could be an economic generator for London? Makes you wonder if Coun. Orser is receiving regular advice from the frisky little squirrels down in Victoria Park. It just never ends with that lad
---
BREAKING NEWS: Amid unfolding gas plant scandal Ontario Premier Dalton McGuinty announces his impending resignation as party leader, prorogues legislature, TS, Oct. 15
Will stay on as an Ottawa MPP until next election
---
---
THOUGHTS DU JOUR, OCT. 15: 1. If urban growth increased revenue and reduced property taxes, our largest cities would have the lowest tax rates. But the opposite is true.

2. Never doubt for a moment the power of popular culture to transform us into certified trained seals. Just go downtown on Halloween, during the Christmas shopping season, on New Year's Eve or St. Patrick's Day. It's fun alright but it's also Group Think personified.
---
THOUGHT DU JOUR, OCT. 13: A year ago this month a landmark red oak tree was planted in historic Labatt Park in memory of Darlene Wells (1933 ~ 2011).
---
Legendary London sportsman Jack Fairs, 89
---
A NEW ERA FOR HOLLYWOOD: Dave Langford's gone from the Sun Media-Free Press 'toy department'
Another AltLondon exclusive
THIS JUST IN (OCT. 12): AltLondon has learned that Dave (Hollywood) Langford (pictured left), longtime sports editor of The London Free Press and most recently national sports editor for Sun Media, no longer works for the Sun Media-Quebecor-owned chain or the local daily newspaper.
MORE SUN MEDIA SLUGGOS TO WALK THE PLANK: The word is a shuffle of the chain-wide organizational deck resulted in Hollywood's sudden termination ~ with more changes on the way, both nationally and locally according to the Freeper jungle drums (click on the image of the drummer to the right to hear the jungle drums).
Dave Langford was Sun Media's national sports editor for the past four years and was The London Free Press sports editor for the past 14 years. Earlier in his career, he worked at The Globe and Mail for nearly 17 years, where he started as senior editor in sports, then was Globe photo editor for four years and sports editor for more than nine years. Prior to that, Hollywood was a sports reporter/copy editor at The London Free Press.
If the past is any indication, this news nugget will be reported by London's mainstream media within a week, once they run out of rip-and-read news ammo.
---
---
London Civic Employees with CUPE Local 107 elect a new president


THIS JUST IN: CUPE Local 107 (City of London's 570 "outside workers") has elected Acting President Al Bruff as its new president for a two-year term, defeating 2nd Vice-President Dennis Reed and a former president Tim Whitworth.

Former CUPE 107 President Eric B. Townshend passed away after an 11-month battle with cancer on April 4, 2012.
---
---
---
ANALYSIS
---
Dramatic Changes Coming to Criminal Law and Immigration for Permanent Residents


By Edward C. Corrigan
On July 24, 2012, Statistics Canada reported the rate of crimes reported to Canadian police forces in 2011 reached its lowest level since 1972.
Since 1991, the rate of males charged with violent crime has dropped by 32 per cent and the rate of women charged with violent crime has risen 34 per cent.
The severity of crime index, a tool used to measure the extent of serious crime in Canada, also dropped by 6 per cent.
The current Conservative government has been criticized for their get tough-on-crime agenda despite the year-after-year evidence that shows crime rates lowering in Canada.
As Statistics Canada noted, "Overall, this marked the eighth consecutive decrease in Canada's crime rate," the study said. "Since peaking in 1991, the crime rate has generally been decreasing, and is now at its lowest point since 1972."
While the decrease in crime statistics is welcome there is still work that needs to be done. However, the question remains is the present Conservative government's "get tough with crime" agenda the right approach given that Canada`s crime rate has been decreasing for eight consecutive years.

The law in Canada, as it currently stands, a Permanent Resident who is convicted and sentenced to two years in jail they lose their right to remain in Canada and have no right to Appeal a Deportation Order.
If an individual is convicted and sentenced to six months in jail and up to two-years less a day they generally become Criminally Inadmissible to Canada and are subject to a Deportation Order. These Permanent Residents, however, do have a right of Appeal to the Immigration Refugee Board Immigration Appeal Division (IAD).
At the IAD the Permanent Resident gets to present reasons why they should not be deported from Canada, why they do not pose a risk to Canadians and should be allowed to remain in Canada due to family ties and other reasons which the IAD may consider and grant a Stay of Removal.
If the convicted Appellant convinces the IAD that they should not be removed at that time a Stay of the Deportation Order is issued usually with strong conditions attached.
There are many reasons why an individual who has been sentenced to six months in jail should be given a second chance and not deported from Canada.
For example an individual may be a refugee and would be subject to torture and even execution if they are returned to their home country.
The current law is proposed to under go a dramatic change.
THE FASTER REMOVAL OF FOREIGN CRIMINALS ACT
On June 20, 2012, the Honourable Jason Kenney, Minister of Citizenship, Immigration and Multiculturalism, introduced Bill C-43 named, The Faster Removal of Foreign Criminals Act: An Act to amend the Immigration and Refugee Protection Act. To date it has only passed First Reading.
Through this proposed legislation the present Government is removing all rights of Appeal for a conviction of criminal charge that has a sentence of six months or more.
The objective of this legislation will reportedly reduce the amount of time with criminals sentenced to six months in jail will spend in Canada by eliminating all rights to Appeal the Deportation Order.
Under current Canadian law all individuals have a right to a Pre-Removal Risk Assessment (PRRA) before being removed from this country.
By removing hope of staying in Canada if you are sentenced to six months in jail will, in my opinion, create unforseen difficulties. In all likelihood these individuals will be held in detention until they can be deported from Canada.
This factor will greatly increase the cost of detaining individuals who are now subject to a Deportation Order with no Appeal.
This new legislation if it passes, a likely outcome since the Conservatives hold a majority in Parliament, will have to be seriously considered by defense counsel in representing their clients who are permanent residents of Canada for if their clients receive a sentence of six months or more they lose their right to remain in Canada. This fact will have serious consequences for spouses and other family members. There will also be consequences for Canada in terms of financial and social costs.
According to Andras Screak, vice-president of the 1,200-member Ontario Criminal Lawyers Association, the new proposed law would now be cast broadly enough to include people committed of minor offences such as possession of marijuana plants. "We are not talking about serial killers, murderers or bank robbers," Screak said. (Bill could exile thousands of permanent residents by Nicholas Kung, Toronto Star, October 3, 2012).
The current provisions of IRPA have considerable merit as they balance the risk faced by Canadians against humanitarian and compassionate factors including rehabilitation and the danger the individual poses to Canada in the short and long term.
This is a debate that needs to occur before dramatic changes are made to the rights of Permanent Residents who are sentenced to between 6 months and 2 years less a day and have strong ties to Canada and who pose little or no threat to Canadians.
---
Edward C. Corrigan is a lawyer certified as a Specialist in Citizenship and Immigration Law and Immigration and Refugee Protection by the Law Society of Upper Canada in London, Ontario, Canada. He can be reached at corriganlaw@corrigan.ca or at (519) 439-4015.